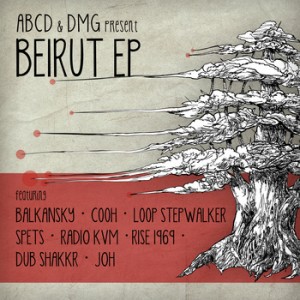 This EP is a compilation of tracks from Lebanese producers . The Balkansky tracks were produced during a music production workshop in Beirut, organized by the DMG Crew. Later on, the first drum and bass collaboration from Cooh and Loop Stepwalker was added to make the compilation complete.
DMG is a collective of DJs, artists, photographers, designers & music enthusiasts promoting and spreading a wide range of electronic music based in Lebanon. Their mission is to educate, support, and expose local artists and the public to alternative genres of music that are different from main stream music.
DMG crew is:
►SKITZO-kronicles : www.facebook.com/Skitzokronicles
►Tavarish : www.facebook.com/groups/145079645529841/
►DAO : www.facebook.com/mudafaka
PROMO VIDEO : youtu.be/d7PHXfql_Tc
More info : www.facebook.com/groups/dmgcrew/
BALKANSKY / COOH : www.facebook.com/abcd.ivanshopov
DMG CREW : www.facebook.com/dmgcrew
Released 30 January 2012.
All tracks mastered in Balkansky Studio, Sofia, Bulgaria.
Album cover illustration by Ivan Shopov : www.ivanshopov.com
Album cover design by Nina Georgieva : www.ninageorgieva.wordpress.com
Album download link : http://abcd.ivanshopov.com/album/beirut-ep
(Visited 24 times, 1 visits today)