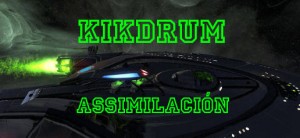 KikDrum "Assimilación" podcast #2,
April 2012.
1 hour of new, independent punk, hardcore, metal, thrash & grindcore from around the world.
Una hora de nuevo, independiente punk, hardcore, metal, thrash y grindcore mundial.
Tracklisting :
Paranoid Visions (feat. The Shend) "Control" (Ireland)
Frente de IRA "Presa" (Mexico)
Relics "Que Tremoli la Ciutat" (Italy)
MxPx "Far Away" (USA)
No Konforme "Tu Condena" (Spain) [video]
Pasi "Istina" (Croatia)
Clan Bastardo "Whiskey & Puttane" (Italy) [video]
Die Schwarzen Schafe "Das ist nicht mein Punk" (Germany)
Nación Criminal "Bajo La Sombra del Olvido" (Colombia)
Wisdom in Chains "Start Living" (USA)
Renuentes "Desinformacion" (Armenia)
The Restarts "Backwards" (UK) [video]
GPL "Youth Is A Fever" (Italy)
Prosthetics "Antisocial" (Spain)
El Punto Devil "La Revolución Interna Mira de Reojo a todo lo que le Rodea" (Spain)
Bodygrinder "I Burn" (Italy)
Nyctophobia "Beyond The Veil" (Spain)
Ataxia F "Fantasias Irreales" (Spain)
Avgrunn "Pyrophilia" (Spain)
If you experience buffering during playback, please allow podcast to load completely (59 mins).