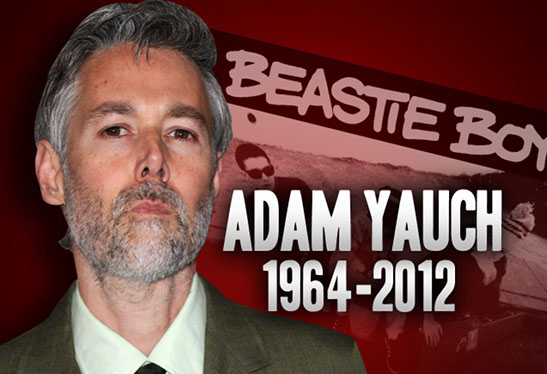 Adam Yauch, uno de los miembros fundadores del la banda pionera del hip-hop Beastie Boys, murió el viernes a los 47 años tras un tratamiento contra el cáncer.
"Con gran tristeza confirmamos que el músico, rapero, activista y director Adam "MCA" Yauch, miembro fundador de los Beastie Boys … murió en su ciudad natal de Nueva York esta mañana tras una batalla de casi tres años contra el cáncer", dijo un comunicado publicado en la página web de la banda.
En julio del 2009, Yauch dio a conocer que se le había diagnosticado un tumor un su glándula salival izquierda. Luego fue operado y buscó tratamiento médico en el Tíbet, entre otros lugares. En octubre de ese año dijo que se sentía "saludable, fuerte y esperanzado" de haber vencido a la enfermedad.
Pero el mes pasado se hizo aparente que el bajista de los Beastie Boys estaba muy enfermo cuando se vio forzado a ausentarse de la ceremonia en que la banda fue introducida al Salón de la Fama del Rock and Roll.
Yauch, conocido como MCA, fundó los Beastie Boys en la década de 1980 con dos amigos, Michael Diamond (Mike D) y Adam Horowitz (Ad-Roc). El disco que los catapultó a la fama fue "License to Ill" de 1986, que contenía el éxito "Fight for Your Right (To Party)".
En un género como el rap, dominado por bandas afroamericanas, los Beastie Boys apelaron a su imagen de tres jóvenes judíos originarios de Brooklyn, Nueva York.
Los Beasties vendieron más de 40 millones de copias de sus producciones, tuvieron cuatro álbumes en el número 1 y ganaron tres premios Grammy.
Russell Simmons, uno de los fundadores de Def Jam Records, la compañía con la que los Beasties firmaron su primer contrato para un disco, publicó un mensaje en su sitio oficial en Internet, en el que dijo: "Adam era increíblemente dulce y el artista más sensible, a quien quise profundamente. Siempre me sentí inspirado por su trabajo. Todos lo extrañaremos".
Adam Yauch, one of the founding members of the hip-hop pioneers Beastie Boys, died last Friday at age 47 after treatment for cancer.
"It is with great sadness we confirm that the musician, rapper, activist and director Adam " MCA" Yauch, founding member of the Beastie Boys … died in his hometown of NewYork this morning after a battle of almost 3 years against cancer," said a statement published on the website of the band.
In July 2009, Yauch announced that he had been diagnosed with a tumor the left salivary gland. He was later operated on, and sought medical treatment in Tibet, among other places. In October of that year, he said he felt "healthy, strong and hopeful" of beating the disease.
But last month it became apparent that the Beastie Boys bassist was very sick when he was forced to miss the ceremony in which the band was introduced to the Hall of Fame Rock and Roll.
Yauch, known as MCA, founded the Beastie Boys in the 1980′s with two friends, Michael Diamond (Mike D) and Adam Horowitz (Ad-Roc). The album that catapulted them to fame was "License to Ill", in 1986, which contained the hit "Fight for Your Right (To Party)".
The Beastie Boys sold over 40 million copies of their productions, had four No. 1 albums and won three Grammy Awards.
Russell Simmons, a founder of Def Jam Records, the company with who the Beasties Boys signed their first record contract, posted a message on his official website, in which he said: "Adam was incredibly sweet and a more sensitive artist. I was always inspired by his work. We will all miss him. "